Well hello, I am back! I have been asked to try out several anti-ageing creams and I am rather fastidious when investigating new products, which promise 'filling in fine lines' and 'helping to reduce wrinkles'
I had an embarrassing experience once when I went to return a face serum which I felt made me really hot: I was 53 and suddenly realised that I was having 'power-surges' but I was actually about to BLAME the chemicals in the face serum!
I tried a wide variety of the earth's little helpers to aid my 'hot-flushes': red clover pills, wild yam and when I asked my doctor if he could suggest any natural remedies , he laughed and said that HRT was actually made from horse's urine which was as natural as you get! Anyway, I just stuck to my natural remedies and gave up lots of foods and drinks which I felt gave me the HOTS…….actually dairy milk and red wine always set me off ? OKAY now though! Feeling good! I can remember saying to my sister-in-law that I felt I was over it all, at 56! She laughed and told me it lasted for 10 years!
Ten years on: I have looked up every chemical in my face serums and moisturisers and written them all down and all seem to have approval and aren't health threatening BUT how do I know THEY are not all in it together? I really feel that the skin NEEDS to breathe, and all we do is 'clart' serums, moisturisers, layers of make-up, and then, a touch of powder to take away 'the iced-bun look!  We then take all this off before we go to bed and CLOGG the pores up yet again with night cream! When we go out in the sun, we make sure our cream has SPF in it! To be quite honest, I just think we need to allow our skin to breathe and take in the sunshine within moderation so we get our quota of natural vitamin D and drink water!
I have ALWAYS used witch hazel (over the counter at pharmacy, very cheap!) as a toner, when I have washed all the muck off my face before I go to bed. I now always use a cream- cleanser and am not fussed whether it is my old friend Clinique or Elemis or if I run out, just soap and water!
I have been trying out a company called  Valmont from Switzerland. I looked up all the ingredients and sort of decided that I didn't want my skin absorbing all those different CHEMICALS, although I do believe that most products just have a lot of glycerin in them; you can use glycerin with oil paint to give a wet-look or with icing sugar when making fondant icing, I think, BUT if you have some, rub it on your hand, and it turns all the wrinkles on your hand silky and smooth!
I am onto 14 days but you have to use it for 28 days and then three to four months later? Why can't you use it continually? I thought it was really working on my neck but when I looked at a photo from last year when I was using CX neck cream from Clinique, my neck looked just as good!  This is called 'Time Master Intensive Programme' and I really like how it is quickly absorbed and it does leave the skin feeling soft. I NEVER put moisturiser on top of serums and you are meant to use it day and night but I feel this product is REALLY expensive and so can't bring myself to use it at night!
The packaging and the daily, glass, push button vials have got to cost more to produce than the actual ingredients! Anyway I will let you know with a before and after photo! This is what it says it does. What is it in me that won't believe all these things that cosmetic companies tell me? I really want to, but then I get scared, in case my cellular structure does change and am I going to get A FAT NECK which I will have to cover up with a scarf anyway! I then panic and don't use it. I really wish I could TRUST people but I don't.
This is from the website http://www.evalmont.com 
This new supercharged formula, highly concentrated with the active ingredients of the Valmont beauty rituals (Hydration, Energy, Glow, Anti-Wrinkle & Firmness), acts on all the factors involved in cutaneous ageing. In 28 days, this polyactive program regulates the mechanics of skin cells and reverses the course of time…
I only needed to read cutaneous ageing to get a panic attack!
I have tried Freeze 24/7 neck cream, which I feel is good as it is quite firm and almost chalky, which immediately feels uplifting.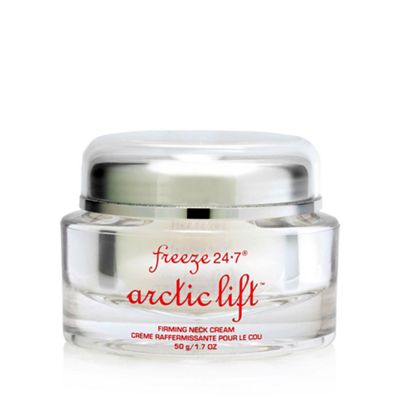 Freeze 24-7
ArcticLift« Firming Neck Cream
£60.00
I have also tried their moisturiser which is lovely and very quickly absorbed and feels very light and non-oily.
If you go onto Debenhams and Freeze 24/7 there are reviews for the products which are interesting and everyone has a different need and different skin type so it is all very much individual trial and error.
Anyway nice to have a chat and love to you all out there and there will be a picture of my FATNECK in a fortnight's time when I have finished the Valmont intensive serum! (I keep consoling myself with the fact that in Tudor times, royalty coated their faces in LEAD to make them look white so they looked rich and royal enough not to have to go out and work in the fields and the sunshine!)
And here I am fussing about a few chemicals!